356 on Portage Ave. ca 1955 (Source: Heritage Winnipeg)


Over the past few years I've blogged about the restoration of Winnipeg Streetcar 356, (see here, here, here
for examples). Winnipeg's only known intact streetcar may find itself without a home by the Autumn putting an end to the planned restoration....

In the past couple of years the Streetcar Restoration Committee of Heritage Winnipeg has had some success. Enough funding from private and public sources has been secured to allow for a significant amount of the restoration work to take place. A team of willing carpenters has also been assembled.


For the last few years 356 has sat
covered, but not out of the elements,
in the storage area of the Winnipeg Rail Museum at Union Station on Main Street.
As with most museums, the WRM is bursting at the seams and they need the space back for their own collection. This will leave Streetcar 356 without a home possibly as early as September 2011.

No home means no restoration work. No immediate work will likely finish the streetcar off as she is quickly coming to the end of her structural life.


Do you have space, or know of someone who does, to house Streetcar 356 ?

The best case scenario, obviously, is a space that is protected from the elements with enough side space to allow for the disassembly and restoration work to be done on-site by the volunteer team. Given the urgency of the situation, though, any space scenario would be seriously considered.

For more information or if you have space leave a comment below or contact the committee at
winnipegstreetcar -at- gmail.com
.
Here is some background on Winnipeg's Streetcar 356....

Streetcar 356 was built in 1909 right here in Winnipeg by the Winnipeg Electric Railway Company and was in service until streetcars were taken off the road in 1955.


Top: July 22, 1955, Winnipeg Free Press
Bottom: Near Inwood, MB ca. 2009
That year hundreds of car bodies were sold off in lots. Most ended up in rural Manitoba as granaries, chicken coops, tool sheds or even cottages. If you look carefully you can still find the odd one out in a field !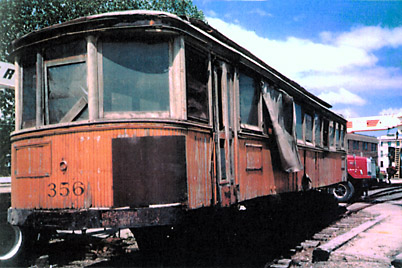 In 1980, streetcar number 356 was rescued and became the property of Heritage Winnipeg. Today she is the only known intact Winnipeg streetcar. Looking at photos of her current condition she looks rough and bare but she did come with all of her parts, (including chandeliers !), which are in storage.


Car 356 Pedigree
(Source:
Winnipeg All Time Fleet Roster
)
Built:1909
Manufacturer: Winnipeg Electric Railway Co.
Model: Brill 27G1
Built in a batch of 4 (356-362 even numbers)
Seats: 44
Length: 45 feet; Width 8 feet
Retired: 1955

While cleaning out Streetcar 356 I came across a bolt in the floor near the back door. I couldn't remove it so I played around with it and lo and behold it was her bell ! The first time it had been heard in 50 years !

For additional information:

Streetcar 356 Restoration Heritage Winnipeg
Winnipeg Streetcar.com
Winnipeg Streetcar slideshow