I was helping someone research a home that used to be at 162 Carlton Street at York Avenue and thought I would share my notes. Click on the images for source information.
At the turn of the last century, Carlton Street between York and St. Mary Avenues in Winnipeg was part of a vibrant, residential neighbourhood.

The homes were not quite as stately as those found south of Broadway, but they were multi-storey, middle-class dwellings. Above is a photo of the block immediately south of 162 Carlton Street, between York and Broadway. A close-up shot of 176 Carlton can be seen here.
The large size of these houses made them perfect for taking in lodgers for extra income. Number 162 advertised 'rooms to rent' starting in 1901 right through to the end of its existence in 1969, with just a short break between 1913 and 1920.
From 1931 until the late 1950s, the home was owned by Elizabeth A. Hazelwood. She was the divorcée of Herbert and raising two small children. I could not find a great deal more about her except that in 1927 she was charged with 'possessing alcohol in a place other than a private dwelling'. The charges were dropped due to insufficient evidence.
A decade later she would be charged with 'possessing liquor not purchased from a government store', she was planning to appeal that and, again, the charges were dropped.

Hazelwood typically had a half-dozen lodgers living with her at any time. Many were labourers, clerks or drivers who worked in or around the downtown area.
The Neighbourhood
Above
is a map
of the neighbourhood circa 1906. Number 162 Carlton is actually three buildings to the left of where the map ends.
The house backed onto
Alexandra School
which was built in 1902 by the Kelly Brothers and demolished in 1969 to make way for the Convention Centre. A commemorative plaque can be found in the Convention Centre's lobby.
Another neighbourhood school was the Roman Catholic St. Mary's School. It was located across from St. Mary's Cathedral, which still stands today. The school closed in 1968 and burned down the following year. The Delta Hotel now stands on that spot.
Across from 162 Carlton was a used car lot and garage. In 1943, the enterprise was known as Carlton Motors.
WW II
1944 ad, Winnipeg Free Press
During World War II, Mrs. Hazelwood continued to rent rooms by the day or the week as can be seen above.
Perhaps the gentleman who placed this ad in December 1944 was a returning soldier looking to fit back into civilian life? Another returning solider, gunner

W. Skoblack, listed 162 as his address upon his return to Winnipeg.
September 17, 1945, Winnipeg Free Press
The house had a close call in September 1945 when a fire broke out in a closet.
Post-War
There was a much closer call with disaster on the night of May 6, 1952.

Bob Salter, (76), who owned the neighbouring home at 164 Carlton for 17 years, left his home that evening only to return to find that it had been the scene of an explosion and fire. The house was razed in as little as three minutes according to the Free Press report.

A rooming house with 15 residents immediately to the north was also damaged but, thankfully, the only loss of life was Mr. Salter's Pomeranian.
A sign that 162 was spared is the fact that Salter spent the night there with owners Mr. and Mrs. Russell Morrison.
The 1950s were the beginning of the end for the downtown residential neighbourhood.
Young families were heading to the suburbs of tidy, post-war houses. The resulting drop in demand can be seen in the rental rates charged for rooms at 162 Carlton. Large rooms
advertised at around $45 per month in the early 1950s were down to $35 by 1961.
This downward spiral could be seen in the tenants. After
nearly 60 years of relative calm, a new wave of young tenants at 162 got into trouble. A teen girl went missing, another was fined for liquor infractions, and a 21-year-old was jailed for attempted car theft.
By the late 1950s, Mrs. Hazelwood concentrated on seniors as tenants. Ads often stated 'suitable for an old age pensioner.' The ages of those who died there over the next decade show this new focus:
- Isabella Carther (66) died June 15, 1959.
- George Harold Gates (68) of suite 5 died August 12, 1962 at Deer Lodge leaving his wife Charlotte.
- Marie Kippling (75) died the very next week, August 19, 1962.
- John Robert Ducharme (55) died August 13, 1963.
- Charlotte (Lottie) Gates (77) of Suite 5 died Nov 27, 1964.
- William (Bill) John Fox (80) died April 7, 1965 and was also buried in Brookside.
Reaching The End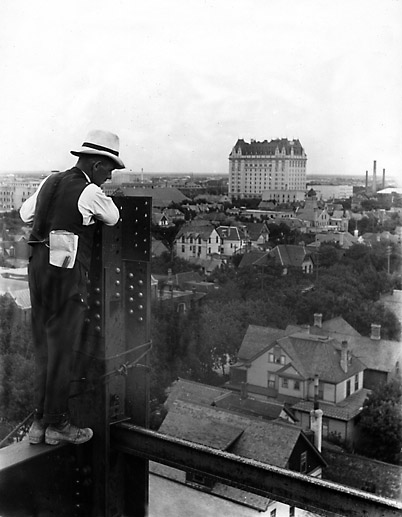 Click image for source information
As the 1950s came to an end, commercial development began eating into downtown's housing stock. This can be seen in the above photos that look in opposite directions from the Hotel Fort Garry to Eaton's Warehouse in 1916 and 1959.


The end of the line for this block of Carlton Street came a bit later than it did for others in the downtown.
To pave the way for construction of the Winnipeg Convention Centre, council passed a bylaw on September 10, 1970 authorizing the release of funds to expropriate the residential properties on the block.

The price paid for 162 Carlton was $100,000. Soon after, a deal was reached with the Winnipeg School Division for the expropriation and demolition of Alexandra school.
Before the Convention Centre opened in 1974, other land deals were signed that saw neighbouring blocks demolished to make way for Lakeview Square, Holiday Inn, and Holiday Towers. From 1970 to 1974, a number of high-rise housing developments and the parking lots needed to service them, also popped up.
It was a time of great growth for downtown Winnipeg and within a decade all but a handful of lonely houses remained between Graham Avenue and Broadway.