Heh ... as a former political staffer I particularly enjoyed seeing this this morning on the BBC.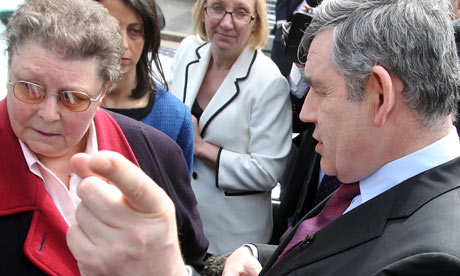 Gordon Brown, anxious to meet the 'average person on the street', went walkabout and encountered pensioner Gillian Duffy. They chit-chatted about the issues when she started in on "

...all these Eastern Europeans what are coming in...

" Brown handled it well and likely nothing more would have been seen or heard of it until ... back in the campaign car he decided that this mildly uncomfortable few seconds must have been the fault of a staffer:
PM: That was a disaster. Should never have put me with that woman ... whose idea was that?
Second voice: I don't know, I didn't see her.


PM: It's Sue, I think. It's just ridiculous. (Muffled sounds)


Second voice: What did she say?
PM: Ugh, everything - she's just a sort of bigoted woman, said she used to be Labour. It's just ridiculous.
That exchange, too, would never have been seen or heard of again except ... Brown forgot that he was still mic'd ! (For which, surely, another staffer got an ear boxing later in the day !)

The incident, just a week before e-day, has mushroomed into the gaffe of the campaign, (to date, anyway), and has Brown begging forgiveness.
It's shone a light on the issue of politicians being out of touch, something that all British M.P.'s are particularly sensitive to. In the past year a number of them, including Brown, were forced to repay questionable charges made to their government expense acounts. A handful of MP's even have criminal charges pending against them in the matter.
For Brown there is the added problem of reinforcing claims that he's, well, an asshole toward junior staff. So much so, in fact, that some No. 10 staffers have made use of the civil service anti-bully hotline.
Oh dear... what's a poor staffer to do when the boss puts both feet in it ?
Related
Has Brown finished himself ?
The Guardian
Brown 'mortified' by bigoted woman slur BBC
Voters should know the full truth about the cahracter of Brown The Observer