Hmmm....
Greyhound
has given 30 day notice
that it will cease operations in Manitoba and NW Ontario and is reviewing other provinces as well.
The news is still fresh, and nothing is yet
posted on their own site
, so there's not a lot of detail but I am assuming that they are talking about intra-province traffic as they've been complaining for years, through their subsidiary Grey Goose, about the unprofitably of many small town routes and already made a round of
schedule cuts in 2005
-
the deeper cuts that they were seeking were ixnayed by the Manitoba Motor Transport Board.
So is this dog dead or just trying to get the attention of politicians ?
In Manitoba there are no real options when it comes to intra-provincial traffic. We don't have a crown bus service
like STC in Saskatchewan
or Ontario Northland. (Grey Goose was separate in name only since the 60's and this year the brand was supposedly to disappear under the Greyhound banner, anyway).
The fact that the news is not on the Greyhound website and that they reportedly "blame Ottawa" for what has happened makes me smell a political ploy.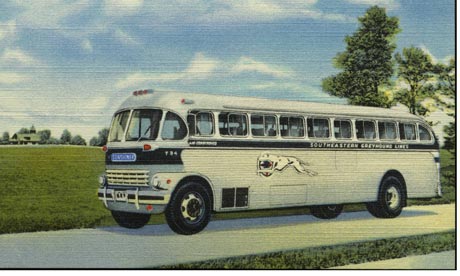 The small routes around the Prairies and NW Ontario are an endagered species. Do we need to look at creating an alternative such as STC or outright subsidize an international company like Greyhound, or a local one like Beaver (Manitoba's largest bus company), to provide this service ?
STC, for instance, costs about $8m per year to run and has a fleet of 45 coaches to cover their province. One source told me that Manitoba could get away with a lot fewer coaches than that.
Whatever option Manitoba chooses it will have to act fast as the clock is ticking on October 3 - the date that the 30 day notice period ends.
Related
- Intercity Bus Service in Canada Parl. Cmte. on Transport Report
- A History of Intercity Buses in Manitoba
Update:
-
Baird: Greyhound "bullying " Provinces for Cash
"They're seeking tens of billions of dollars of taxpayers money as a subsidy. That's why they're targeting Manitoba and Ontario."



A few more update notes:



- In 2007 FirstGroup of Scotland purchased Greyhound from Laidlaw. Just last week they introduced the Greehound brand to the UK in a big way.

- Someone who knows the bus industry well told me that they're not that surprised that FirstGroup, now with an even stronger presence in many of the world's largest markets, would have been be scratching their heads at why they're running a Gillam to Winnipeg route that loses money. He imagines that they will concentrate on the Montréal / Ottawa / Toronto corridors and some areas in B.C. and give up the small local routes all together.Perhaps it's a political game for cash but if they don't get it, they'd be just as happy to walk away.

- Also see Wolfram