I found an interesting item while updating the "upcoming History Events" calendar. It's the "
Winnipeg Rock and Radio Reunion
" featuring a number of bands and deejays from the 60's.
I've heard a lot about the rich musical history of Winnipeg in the 60's. Due to my age and the fact that my parents grew up in another country, none of that got passed down first-hand. I might check this out and see what it was all about !
The event takes place September 26, 2009 at the Convention Centre !
I thought I'd take a quick look through the archives to find some stuff on the bands. Here's a taste:
Love Cyrcle
popular in 1969.
Satan and the D-Men
Formed: 1962
They're still rocking today! There's a great retrospective at their website.
Gettysbyrg Address
Formed: 1967
They had three hit songs. (
May 15, 1968 (WFP))
The Fifth
Formed : 1967
The pride of Winnipeg Beach !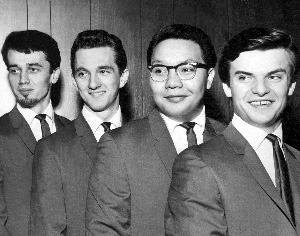 The Shondels
Formed: 1959
Eventually signed by Columbia Records
Electric Jug & Blues Band
Formed: 1964
They once opened for the Monkees.
Some interesting show ads below. What seemed great was that for club shows they all stressed food as much as they did the bands. Going to see a band seems like it would have been a whole evening out. A smorg, a band, dancing all in one place !
May 20,1966 (WFP):

Jan 27, 1969 (WFP):
Related Sites:
Jam! Showbiz: Canadian Pop Encyclopedia
Canadian Bands.com
SuperOldies.com:
Eagle Records
Franklin Records
60's Rock and Roll in Brandon