It's the quintessential prairie marker and, for many, is a beautiful sight. There's nothing particularly beautiful about them up close. Dusty, dirty, utilitarian. What has made them such an icon ? They're one of the few things we have created that could stand up to the prairie.
It marks not only space but, similar to an inukshuk, is testimony that "we've been here". Unlike the inukshuk, however, they won't be around for generations, or even years, to come. In the 1930's there were around 6,000 primary elevators in the West. In just the past decade the number has dwindled dramatically:


-
Some
grain elevator 101
.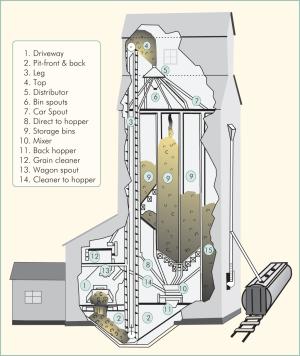 -
Grain Elevators.ca
has a great photo inventory of elevators.
-
The
U of S Wheat Pool page
has many historic photos.
-
The
oldest standing elevator
in the West is at Fleming, Sask. (near Moosomin).
-
Of course, at Inglis, Manitoba there is the
Inglis Grain Elevators National Historic Site
.