We're blessed with an abundance of trees in Manitoba. In fact, 57% of the land base is forest or other wooded area.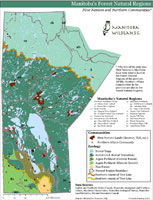 In the central and northern regions you'll find the vast boreal forest, Riding Mountain National Park and the Skinner Arboretum
.
In our cities we have created great greenspaces for ourselves like
Island Park
in Portage,
Centennial Park
in Altona or
Selkirk Park
in Selkirk.
In Winnipeg, we have great treed spaces be it in our parks like Assiniboine and Kildonan to Central and St. John's. We even have the municipal Assiniboine Forest.

You don't have to visit a park to see how treed Winnipeg is. Our vast urban forest is everywhere. It is estimated that there are 8 million trees in the city, 270,000 of those on boulevards.
These are shots I took on Friday from the Ellice and Balmoral area looking toward the airport, the stadium and the Health Sciences Centre. You'd think we lived in a jungle !
Not all is well with Winnipeg's urban forest, though, as pests and disease are a major threat. With an estimated 160,000 elms - the largest remaining urban elm population in North America - Dutch Elm Disease is at the top of that list. Elms make up almost half of our boulevard trees and, on average, we lose 4,000 of them a year due to the disease.

We have been lucky to keep what we have but need to be vigilant to make sure it's there in future.

For some urban forest tips and some tree facts from the city website.