I was very lazy this rainy weekend. A bit if cleaning, napped. Sorted some papers, napped. Had a go at getting my backlog of pictures organized, napped.
Playing around with my pics brought me to the
U of M Winnipeg Building Index
and
Heritage Winnipeg
site trying to find some "thens" for my "nows". I didn't have a lot of luck but found some other neat things.
Here are a few of Portage Avenue in the pre-Portage Place / monster skywalk days (Click on the photo to go to the source page).
Portage and Main sans barricades
c 1938: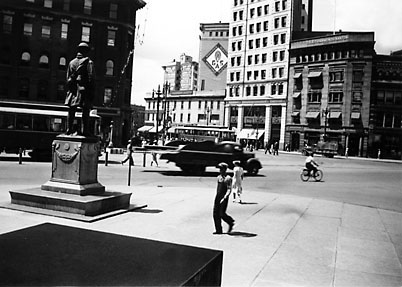 I love the streetcars but, yikes, that would have been a bit of a dangerous a trek to and from the middle of the road in winter as the cars whizzed by you !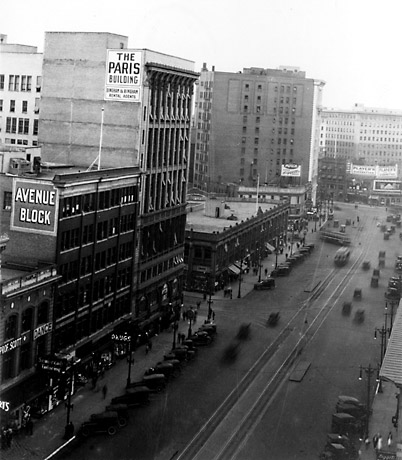 Portage and Donald looking west (circa 50s ?).
Portage Avenue 1965: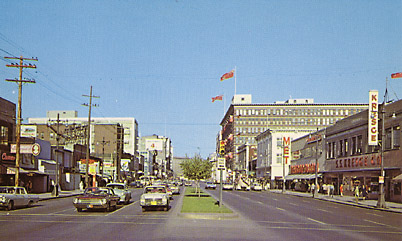 Portage Avenue 1975: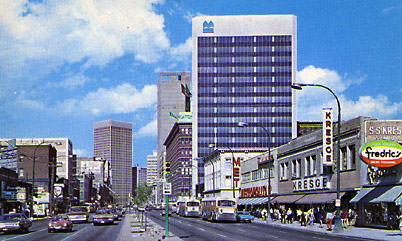 Here's Portage and Vaughan looking east. To the left is where Portage Place is now, (c 70's)
If you click on the above image, look to the first building on the left - that was the Scientific Building. It was home to such local institutions as Scientific School of Beauty, Shaino's (which I believe was a leather wear store), Solar News and the first Rae and Gerry's.
There's a great picture of it in
Going Downtown
but I can't find anything better on the net. Here's a blow up. Look closely and you might recognize something:
Well, if you do any walking downtown you might have seen part of the Scientific Building's facade. It's on Portage Place:
It's on the wall outside Pantages (the black portion close to the confederation building)
It's on the main floor of Place Promenade:
If memory serves correct, it's also around the stage at Old Market Square and maybe even Air Canada park as well.
Well, time for another nap !