I see that Imrie Demolition signs have gone up on the former United Army Surplus Building at Portage and Memorial.
Due to
asbestos and other problems
with the building, the U of W and the owner have
opted to demolish
rather than renovate. The final plans for the new building are still in the works but it is going to be between 2 and six storeys and expected to begin construction spring 2009. The U of W will be the lead partner with a ten year lease.
A new structure is welcome at that intersection. Portage and Memorial marks the western gateway to the downtown section of Portage Avenue and deserving of something a little grander.
The Portage and Memorial, (or "The Mall" as it was originally known), intersection has always been single storey retail. Until the construction of The Bay in the mid 1920's, it would have bordered to the south a residential neighbourhood and the U of M campus near the Legislature.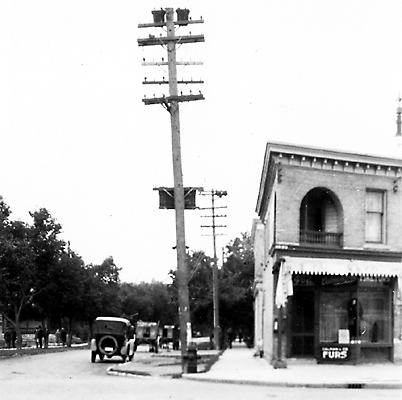 Colony and Portage c 1905
Some of the early businesses on the block included:

Thornton Andrews Drug Store (c 1904)
GA Cedarquist, Tailor c 1911

National Herb Co. c 1913
Lou's Barber Shop c 1915
The opening of The Bay brought big time retail to that section of Portage Avenue and some changes to the southwest corner of the intersection as well. Gone was the collection of individual buildings to be replaced by one long unit as the 1935 aerial shot below shows.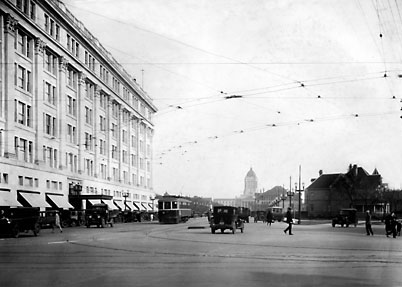 c 1928 with construction complete. Housing and U of M in background.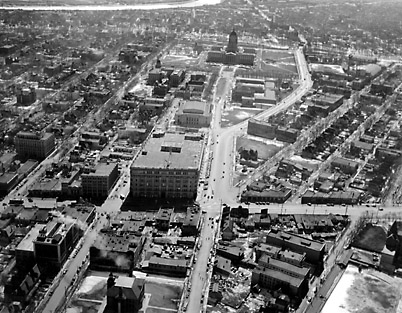 Stores came and went over the decade with two constants: a furrier and an electronics shop.

Winnipeg Radios 462 Portage (1932)

Winston Dependable Furrier 466 Portage (1938)
Arctic Furs 468 Portage (1938)
Electric Expert Radio Service 464 Portage (1943)
Ludwig Furriers 462 Portage (1944)
Marianne's Style Shoppe 464 Portage (1953)

Stewart Electric 460 Portage (approx 1939 - 1962)
Alfred Rudolph Furs Ltd 466 Portage (1966)
It was in 1947 that across the street, near the Mall Hotel, that brothers
Nathan and Fred Bogoch opened an army and navy equipment surplus store. Their gamble proved to be a huge success. Around 1950 they moved to a new location, the former Stewart Electric space at 460 Portage.
Over time, Army Surplus would absorb neighbouring units and eventually built a new frontage over top of the pre-exisiting basements.


At it's peak Army Surplus had three stores around the city.
One dark time in Army Surplus' past was the 1973 fire that started in a neighbouring hair salon. That forced their flagship location to Notre Dame Ave, (where Giant Tiger is now).
Sadly, the 00's weren't kind to United Army Surplus Sales. With just the one flagship store, in July 2007 they announced bankruptcy. When no buyers came forward the store was liquidated and has remained empty ever since.
A nice shot of this block on Winnipeg Love Hate

- Newspaper clippings from manitobia.
- A great write up on this block in Gourluck's Going Downtown.
- For the other pics, click them for references.