An interesting feature of the intersection, even more so than the building, is the metal structure that once held a billboard a number of storeys above the roofline. It's one of the one of the oddest landmarks in Winnipeg and will, presumably (!), be coming down as well.


I can remember it from when I was a kid but can't find any pictures of it. It was a large sign and within it was a smaller sign made up of a number of long, three sided blocks that would rotate to reveal a different ad: Grubee's, Champs Chicken, what have you. I can't remember when it went out of service but my guess would be the late 70's.


A billboard at the site has been a constant, so it seems:

From 1930 you can see a little billboard there (top left):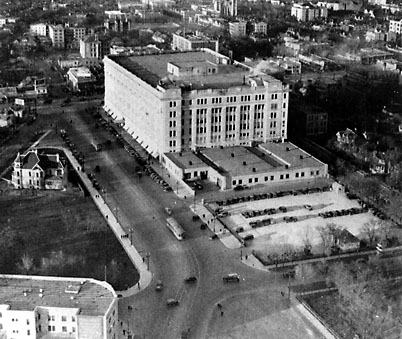 During WW II, the Victory Bond billboard, indicating the money collected to date, was stationed at Portage and Memorial:


In 1949 yet another sign !


The scaffolding that some find interesting, but most consider an eyesore, has caught the attention of the city at times. A scan of past meetings shows that in September 1999 the Property and Development standing committee instructed the department to

"...submit a status report on the abandoned roof mounted sign structure atop the United Army Surplus Building at 460 Portage, including therein an outline of the signage/zoning regulations in other municipal jurisdictions applicable to a structure of this type".



Proving that City Hall gathers much moss, the issue does not crop up again until March 4, 2003 when the 1999 motion returns as an "outstanding item" on the agenda. I couldn't find if a report, indeed, had been submitted. The item was dealt with in 2003 by sending the owners of the offending structure off to work with the Downtown Biz to find a resolution.